2015-09 September - Boston Magazine / Home and Property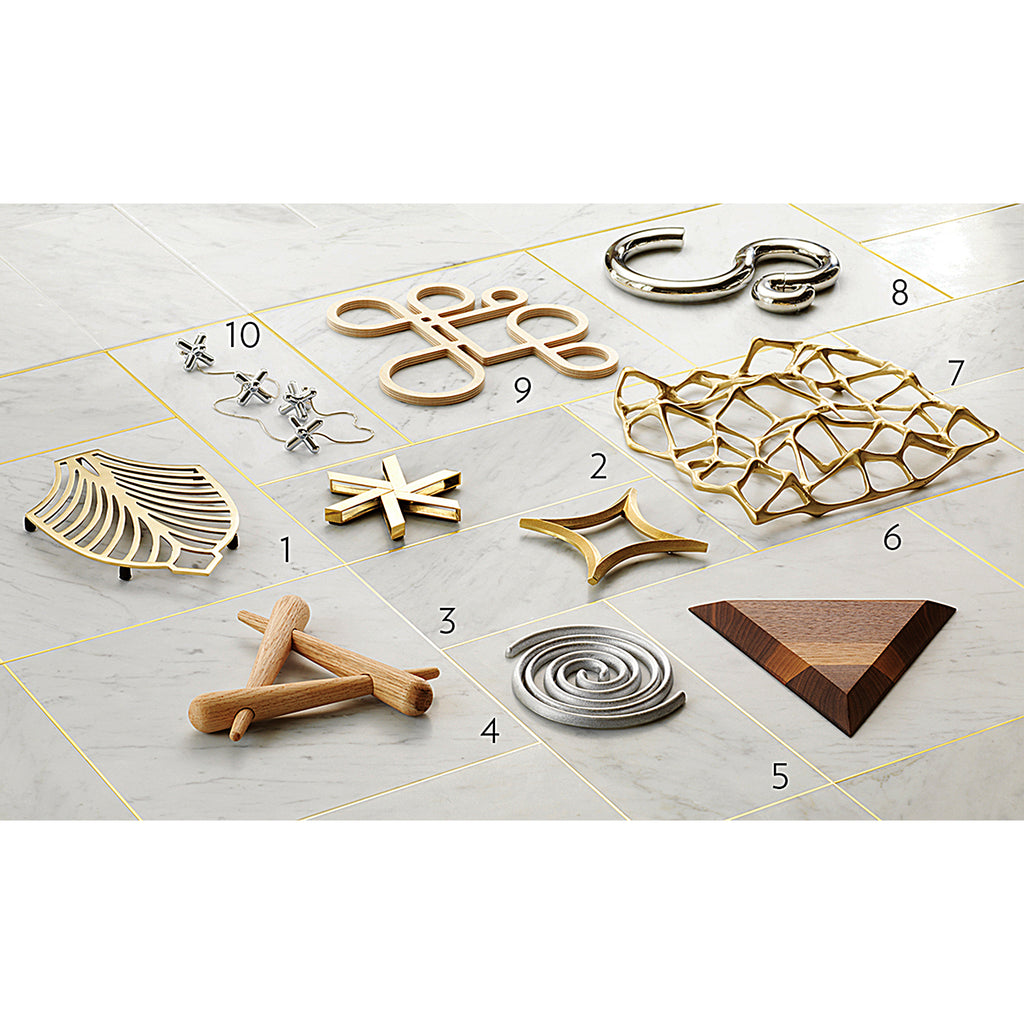 Too Hot to Handle: The utilitarian table trivet doubles as modern art. by Kara Butterfield. September 01, 2015.
Check out Boston Magazine's "Perfect Ten" picks of stylish table trivets.
1. Objecthood "Land's End" brass trivet, $112, Suite NY.
2. Saikai "Star" brass trivet, $95, Lekker.
3. "Pinwheel" brass-and-cork trivet, $140, Form Fwrd.
4. Adam Goodrum "Timber" oak trivet, $33, Normann Copenhagen.
5. "Spiral" aluminum trivet set, $100, American Design Club.
6. Walnut trivet tray, $52, Joinery.
7. Tom Dixon "Bone" brass trivet, $220, Suite NY.
8. Dror Benshetrit for Alessi "Try It" stainless steel trivet, $112, Didriks.
9. Inside Out "Model A" birch-plywood trivet, $30, Abode New York.
10. Gabriele Chiave for Alessi "Tripod" chrome-plated-alloy trivet, $56, Didriks.
For more than 40 years, Boston magazine's experienced writers, editors, and designers have captured all sides of our city with award-winning and insightful writing, and groundbreaking reporting and design. Our expository features, narratives, profiles, and investigative features tell our half-million monthly readers how this city works, while our unsurpassed, sophisticated service journalism helps them get the most out of it. We report which towns and neighborhoods are the most desirable, which schools and workplaces are at the top of the heap, which doctors are first-rate, and which restaurants, stores, and services are the Best of Boston®.
Turning a house into a home is a deeply personal task, which is why Boston Home specializes in news and tips ideal for creating a unique New England abode. Whether you're remodeling, renovating, or simply adding some polish, this quarterly magazine can make defining the look and feel of your home easier than ever. With the best advice on sprucing things up, inspirational profiles of showcase homes, and a comprehensive resource directory, Boston Home keeps your quarters on the cutting edge.