2015-05 May - Bon Appetit: The Foodist, In-Flight edition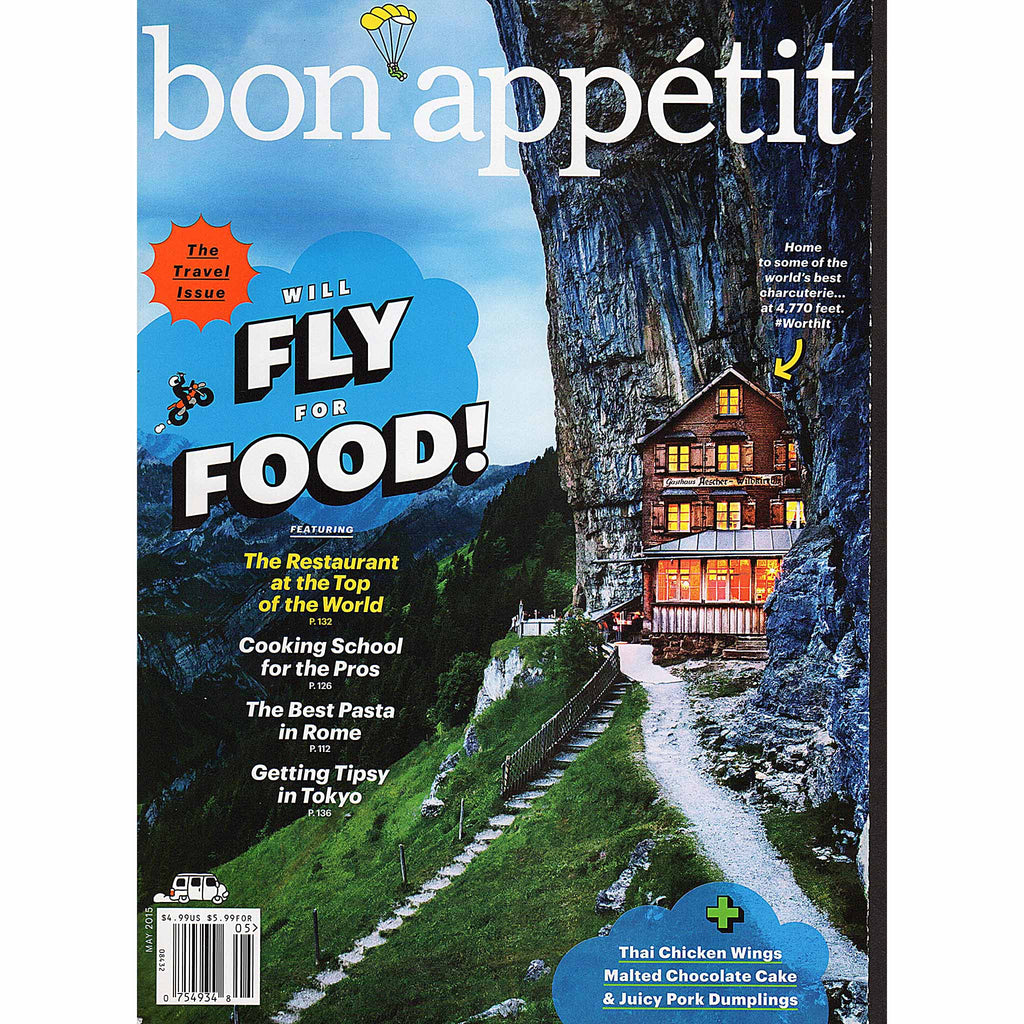 In-Flight Travel Essentials That Keep The Foodist Sane by Andrew Knowlton. Illustration by Peter Arkle
Air travel isn't easy these days. Restaurant and drinks editor Andrew Knowlton does a lot of it, for restaurant scouting and food events like Expo Milano. These are the travel essentials that keep him sane and comfortable during his frequent travels.
10:20 P.M. Takeoff from New York

Flight time 00:00
The only things I bring to my seat are my MacBook Air and the Baggu Small 3D Zip Bag ($8), which holds everything I'll need for the flight. My duffel bag goes in the overhead bin.

00:02
Kick off with a cocktail using Scrappy's bitters ($22 for four .5 oz. bottles). My Tsuki-Usagi enamelware mug beats flimsy plastic any day.
00:20
I believe in the immunity-boosting powers of zinc. The not-too-sweet elderberry-flavored lozenges from Zand ($2 for 15) give me hope even when the whole row behind me is sneezing.
01:35
Most hand sanitizers smell like a doctor's office. Aesop Resurrection Rinse-Free Hand Wash ($10 for 1.7 oz.), on the other hand, has hints of mandarin and cedar.

01:45
I could sleep through bright lights and crying babies with my Morihata binchotan eye mask ($24) and Mack's silicone earplugs ($5 for eight pairs).

07:00
When I wake up, I reach for TheraTears Liquid Gel ($11 for 1 oz.). A few drops and it's like I have a new set of eyeballs.

07:05
In case genius strikes in your sleep, you should always have a pen on hand. My current crush is the Kaweco AL Sport fountain pen ($78).

07:10
I somehow stopped losing lip balms once I discovered Yu-Be Lip Therapy ($5), containing aloe vera and shea butter.

07:30
My mom used to dab Vicks VapoRub under my nose, but if I don't want to feel like a kid with a cold during the descent, I use an Olbas Inhaler ($5).

12:15 P.M. Touchdown in Milano
In-Flight Travel Essentials That Keep Andrew Knowlton Sane. Credit: Danny Kim.