2008-12 December - Apartment Therapy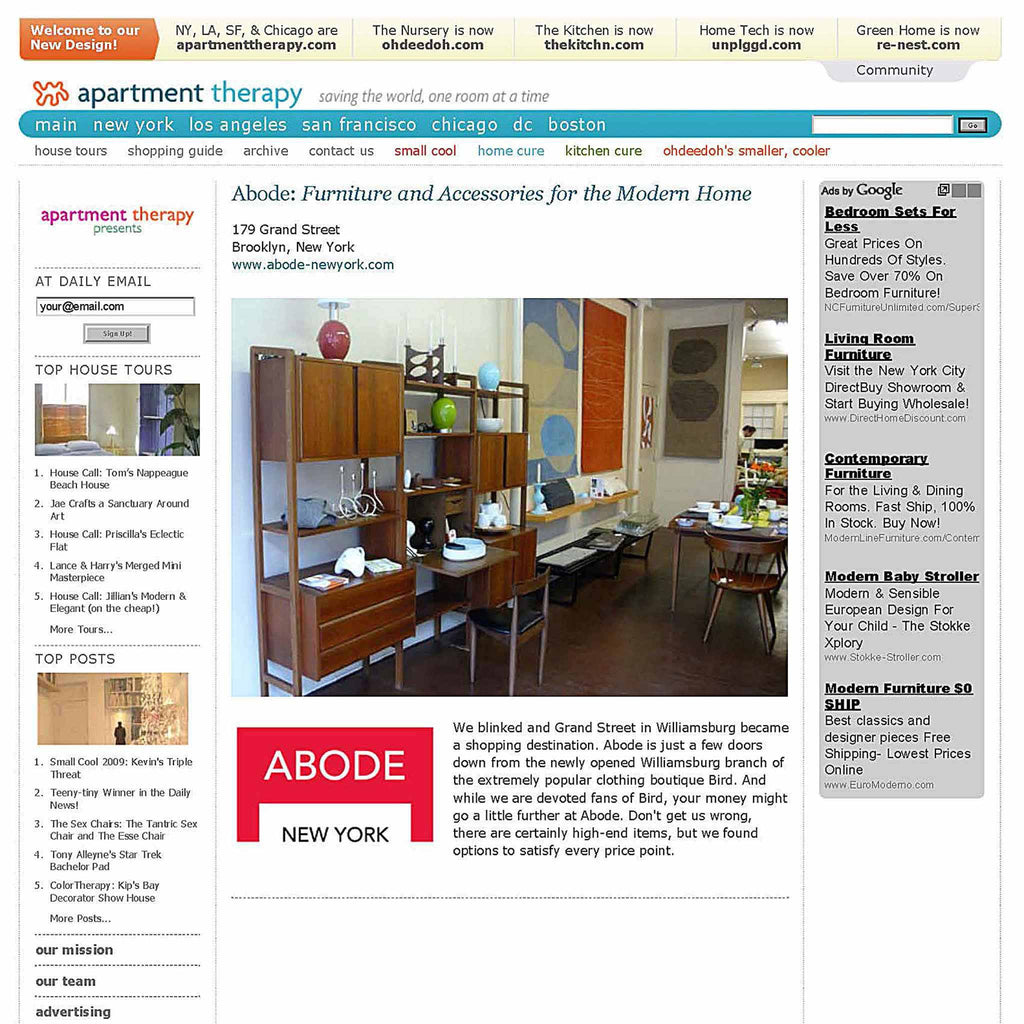 Abode New York: Furniture and Accessories for the Modern Home by Amy Azzarito for Apartment Therapy, December 09, 2008.
We blinked and Grand Street in Williamsburg became a shopping destination.  Abode New York is just a few doors down from the newly opened Williamsburg branch of the extremely popular clothing boutique Bird.  And while we are devoted fans of Bird, your money might go a little further at Abode New York.  Don't get us wrong, there are certainly high-end items, but we found options to satisfy every price point.
There is a mix of modern and vintage in the store. Abode New York focuses on finding stylish objects designed with environmental and socially conscious production values. One of our favorite items were these light fixtures by Black + Blum - what a great price for stylish fixtures!  Many of the contemporary objects in the store are produced by local artists and designers such as the White Bike Ceramics and steel side tables and stools.  The store has only been open for three weeks and new pieces were being delivered even as we perused the store.  We look forward to watching them settle into the neighborhood. 
Goldie Home Stripe Bedding Collection
Pebble wool felt cushion by Sarah Campbell for mogwaii
Thrown and hand-built porcelain dinner plate by Lauren Adams for White Bike Ceramics
Thrown and hand-built porcelain bowls by Lauren Adams for White Bike Ceramics
Thrown and hand-built porcelain serving platter by Lauren Adams for White Bike Ceramics
Ring Ring magazine holder by Black + Blum
Ryder entry console table by modernlink
Mummy orange tea towel by Maja Brugos for Tikoli 
Plouf tea towel by Maja Brugos for Tikoli 
Cirius tea towel by Maja Brugos for Tikoli 
 Little Bang Pendant Light by Black + Blum