2016-07 July - The Design Legacy of David Mellor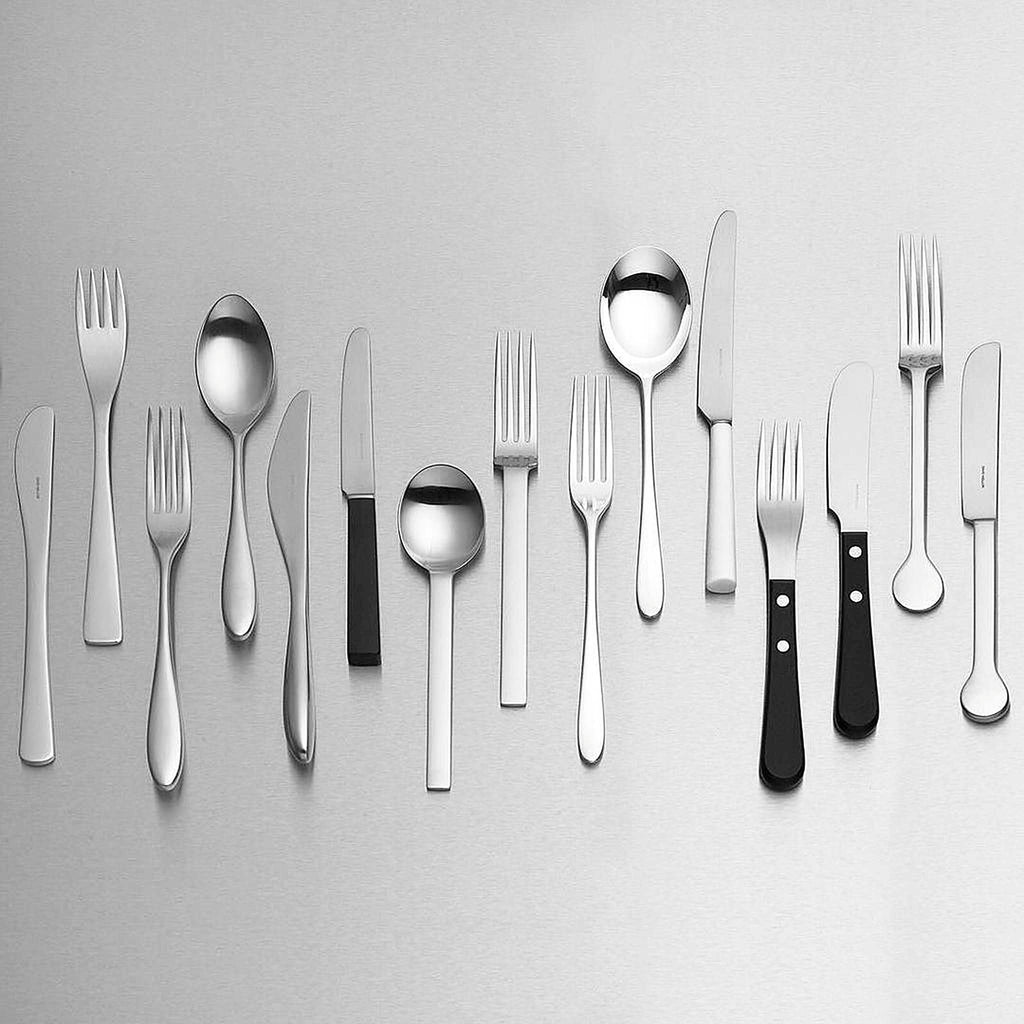 "Design & Interiors:  The Design Legacy of David Mellor, as English as Afternoon Tea," by Claire Bingham, T, The New York Times Style Magazine, July 6, 2016.
If you lived in England any time in the last half-century, you've probably eaten with a fork designed by David Mellor. This is true if you spent time on the British Rail, or were in a hospital, or if you were in prison. But it is also true if you were the prime minister or the queen. This is because Mellor's silverware is as much part of English culture as afternoon tea.
Born in Sheffield in 1930 and trained as a silversmith at the Royal College of Art, Mellor refined his pared-down aesthetic on a trip to Sweden and Denmark in the early 1950s. His affinity for the simple minimalism of Alvar Aalto and Josef Hoffmann would inspire his own understated designs for tableware, such as his English pattern, with Georgian-inspired handles shaped like exaggerated teardrops (which was originally designed for ceremonial dinners at the prime minister's residence), his 1953 Pride, with resin handles that resemble the hilts of 18th-century daggers and his Minimal line, in which the knife is rendered as a single, gently swooping curve, ending in a delicate rounded tip. Amid the bright and noisy designs of the '60s and '70s, Mellor's work never demanded attention — and as such, it quietly became an integral part of everyday English life.
So integral, in fact, that even people who know Mellor's cutlery — his Sloane Square shop has been a fixture since it opened in 1969 — are unaware that the designer, who died in 2009, is responsible for many other quotidian totems as well. Like many architects of post-World War II modernity, Mellor considered good design his civic imperative; his generation created a visual vernacular for the postwar age.
The streetlight he developed in 1955 for the burgeoning suburbanism across Britain was inspired by lighting columns he had seen in the Villa Borghese gardens in Rome, and consisted of a towering steel tube, its neck bent at a precise 90-degree angle. Like his silverware, it is deceptively simple yet perfectly proportioned. These were followed by bus shelters, park benches, mailboxes, pedestrian signal boxes and traffic lights, an astonishing number of which are still in use — testament to the endurance and purity of his design. He also made dozens of other objects, including a one-off, spectacularly refined silver candelabrum and tubular steel chairs now in the permanent collection of the Design Museum of London, and in so doing, helped define his country's specific Modernist aesthetic. The designer Jasper Morrison counts Mellor as one of his first inspirations. "He's a rare and great example of the subtle and quiet restraint that seems to be a particularly British design characteristic," he says.
These days, Mellor's legacy lives on not only through these objects, but through his son, Corin, also a designer, who runs the family firm. Headquartered since 1990 on an idyllic stretch of land in the Peak District National Park, just west of Sheffield, the company produces its tableware in a building Mellor commissioned from the architect Michael Hopkins, built on the circular foundation of an old gas tank. The entire process — cutting, grinding, polishing and finishing — is set up in the round. It's a system that is neat and efficient, but also as beautiful as the work it produces.