2009-05/06 May/June - Williamsburg Greenpoint News + Arts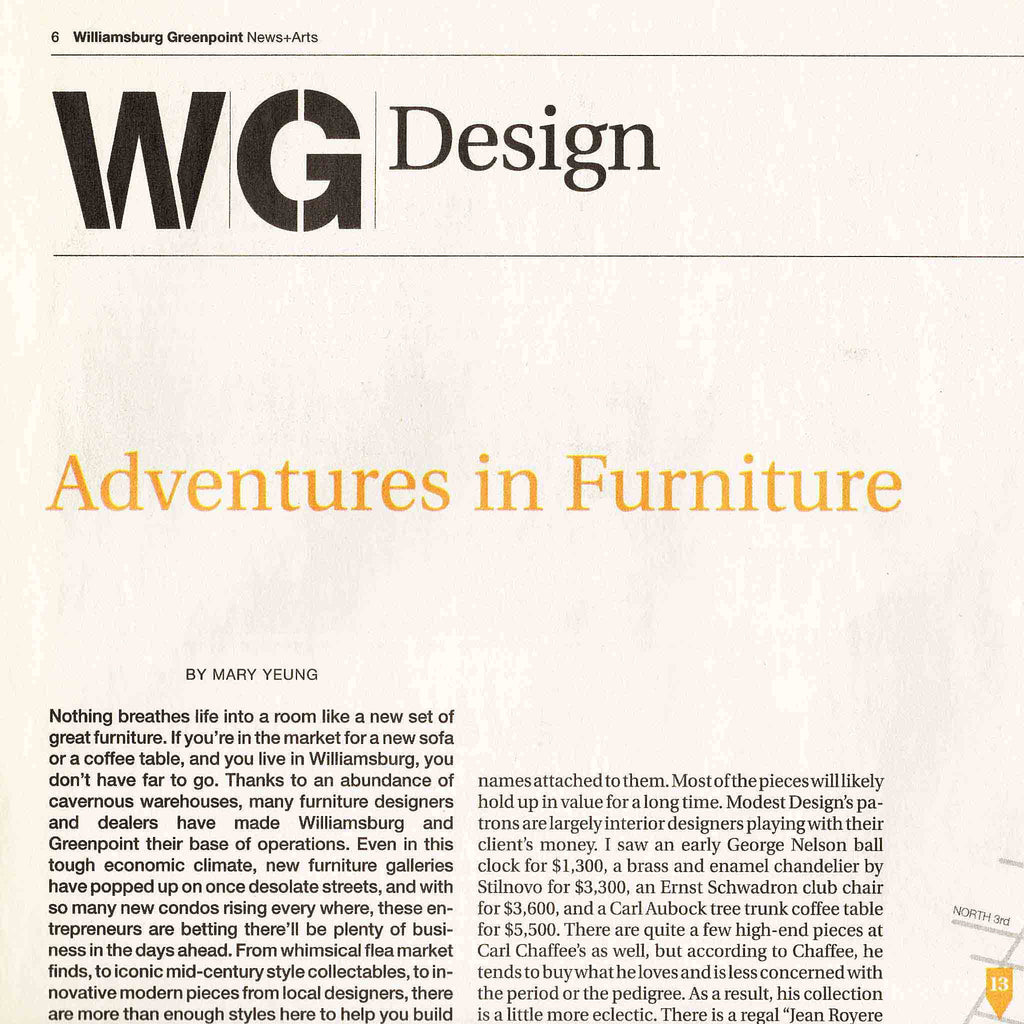 Williamsburg & Greenpoint Design & Furniture - Adventures in Furniture by Mary Yeung, pages 6-7.
Nothing breathes life into a room like a new set of great furniture. If you're in the market for a new sofa or a coffee table, and you live in Williamsburg, you don't have far to go. Thanks to an abundance of cavernous warehouses, many furniture designers and dealers have made Williamsburg and Greenpoint their base of operations. Even in this tough economic climate, new furniture galleries have popped up on once desolate streets, and with so many new condos rising everywhere, these entrepreneurs are betting there'll be plenty of business in the days ahead. From whimsical flea market finds, to iconic midcentury style collectables, to innovative modern pieces from local designers, there are more than enough styles here to help you build an exceptional home.
Abode NewYork is a minimalist, eco-chic furniture and houseware boutique that features "furniture for the urban dwellers," say co-owners Brian Sahd and Tony Wong. "We focus on modern, clean lines for urban living as opposed to the "steampunk goth" thing that is happening in furniture right now." Abode sources local designers, woodworkers, and artists such as Alex Gil, David Zachary, Domestic Aesthetic, and White Bike Ceramics. "Many designers have come to the store to present things for our consideration," Wong says. As a result, many of their products have a fresh young feel. Eco-friendly furniture made of sustainable materials is paired with whimsical décor items like felt pillows with genuine river rocks sewn on that give a spa-like zen vibe. It's a great place to go for tasteful gifts for friends who want to find a little quiet and stillness.